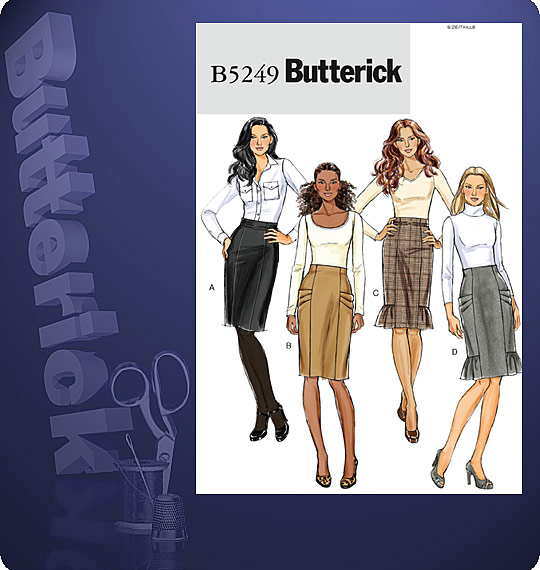 Pattern Description:
MISSES SKIRT AND BELT: Skirts A, B, C, D have princess seams, back zipper and high waist. A, C: carriers and self-belt with purchased buckle. B, D: side front pleats and pockets. C, D: self-ruffle. A, B, C, D: mid-knee length. I made view B
Pattern Sizing:
AA Sizes 6-12. I cut a 10, but should have cut a 12.
Did it look like the photo/drawing on the pattern envelope once you were done sewing with it?
Yes!
Were the instructions easy to follow?
Yes, they were.
What did you particularly like or dislike about the pattern?
I love the pleat deatil on the pockets. This skirt reminds me of something you could find at Anthropologie. A classic style, but with extra detailing with the pleats.
Fabric Used:
A worsted wool siuting I found in the bargain section of Hancock's. Sometime you can find some hidden gems in there. This fabric is a black and navy plaid, and it has a beautiful drape and hand.
Pattern alterations or any design changes you made:
I had to let out the side seams and back side seams in order for it to fit. I found this pattern ran a tad small.
Would you sew it again? Would you recommend it to others?
I wouldn't sew this exact style again, but would possibly make another one of the views. I highly recomend it.
Conclusion:
I love this skirt! I think it is classic, yet has a little something extra to make it very current and on-trend.
Detail of the pockets and pleats. Hard to photograph because of the dark color, but my chalk lines do show! Will have to remove those before I wear this skirt.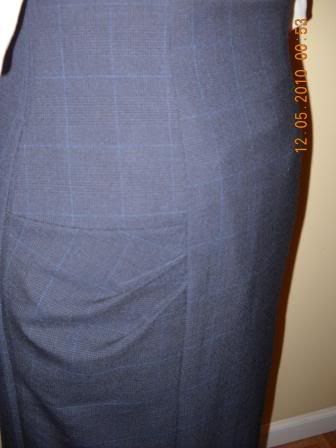 The plaid soesn't show up as strongly in person, otherwise I would have paid more attention to matching it.
I have shown this skirt with blouse Butterick 5284. I'm not sure I will wear the two together, as the ruffles and pleats may be a little too much if worn together. I will review this blouse in my next post.