Ever go though your fabric stash and "find" things you forgot you even had? Yep- happened to me a couple weeks ago. I was digging around in the shelf where I keep my fabric, and out rolled two remnant pieces I forgot I even had. Both knits, both about 1 yard. When ever I am in JoAnn's or Hancocks, I always check out the remnant bin. You never know what kind of goodies you can find in there. While one yard of fabric isn't much, it is usually enough for a knit top (short sleeved or sleevless) or for a skirt. I also find pieces of by-the-yard batting in there, which are big enough for a quilted table runner. And with Hancock's new remnant price structuring, most pieces are $2.00. Bargain!
This piece was a knit from Joann's. I love the berry color, and I only paid $4.58 for it. I didn't have a project in mind, so into the stash it went.
I have a tentative weekend trip to San Antonio in April, so decided to make a coupe knit tops for the trip. For this one, I used New Look 6940. This is a pattern I have used before, so knew there would be no fitting issues. I made view B, but without the slit up the front. (not sure who that slit would look good on, but it defiantely wouldn't look good on this 40+ year old body that's had three kids!)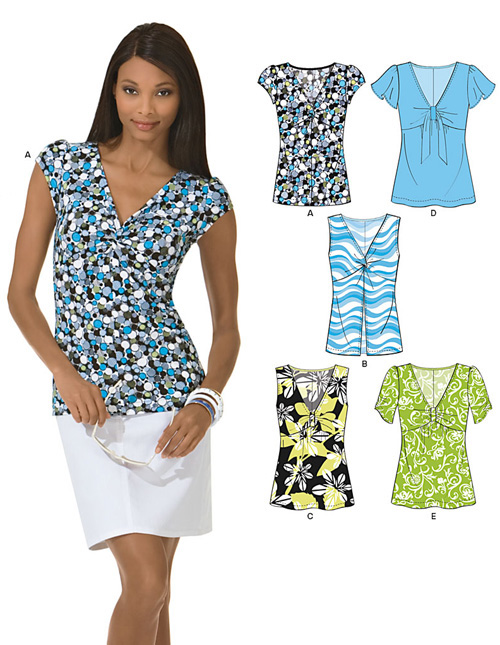 I love how this top turned out. I would like to try view C next.
Here is my review:
Pattern Sizing:Size A (4-16). I made a size 10.

Did it look like the photo/drawing on the pattern envelope once you were done sewing with it? Yes.

Were the instructions easy to follow? Yes they were.

What did you particularly like or dislike about the pattern? I like the variations of this pattern. And that it is an easy top to make, but is a notch dressier than a plain t-shirt.

Fabric Used: I picked this fabric out the remnant bin at JoAnn, so I am not sure of the content. I think it is a polyester interlock, with two-way stretch.

Pattern alterations or any design changes you made: I sewed clear elastic all the way around the neckline and then turned it under and top stitched. This holds the front close to the body, so no gaping. I have made this top one other time, and use a self-fabric binding, stretching it as I went. That worked well too.

Would you sew it again? Would you recommend it to others? This is the second time I have made this pattern, and both tops look very different. If you are looking for a "dressier t-shirt", this is a great pattern.

Conclusion: Cute, easy top. I could see making a few of these to fill out my summer wardrobe.

Blessings-
Lisa