One area my wardrobe is especially lacking is casual weekend clothes. I have work clothes/office wear, and I have a few grubby sweatshirts an jeans- nothing in between. I have been working on filling in the gap, and started with this tunic pattern from McCalls: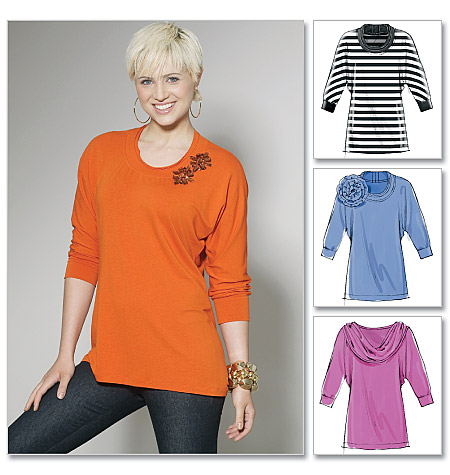 I made view B (like the orange one). I used a Rayon knit from Fabric.com in a charcoal gray color. I really like this fabric- it has a nice drape to it. It is thinner than what I had in mind for this top, but it worked fine. The neck edge on this one is unique. It has a double layer of fabric, and the edges are left unfinished. With this drapy knit, the neck band endedu p standing out from the top a little, almost cowl-like. I like how that turned out.
I wanted to add some detail to this top, since it was pretty plain, but I wasn't too crazy about the extra-large flower that came with this pattern. So, I choose one from another pattern in my stash to make the flowers. They were really easy to make, and I think they add a nice detail to this top.
I also like the sleeve band. I think it just give a nice finish to the three-quarter length sleeves:
I really like this pattern. I would like to try it again with a heavier knit, maybe even a sweatshirt knit. If you're looking for a quick, easy project I would highly recommend this one!
I am almost finished with my next project, a cardi wrap and matching shell. This will be my first "jacket" for the Jacket a Month Sew Along over at Stichers Guild, which will be the topic of my next post.
Blessings- Lisa
\